Yahrzeits
Yahrzeits for the week beginning the evening of May 26th – June 2nd • 7th – 13th Sivan
Yahrzeits correspond to the Hebrew date. Names will be announced the Shabbat prior to the observance.
Cantor Sarah Lipsett-Allison, z"l
Americaus Birdwell
Robert "Bobby" Bitton
Sidney L. Blattner
Thelma Crass
Harry Elster
Walter Fogel
Howard Garland
Lillian Elsa Gebhardt
Fred Hertz
Herman Keslansky
Frima Kogan
Evelyn Leslie
Norma Delemos Loeb
Solomon Lyubner
Nancy Monro
Frederick C. Nelsen
Mark Ohrwaschel
Joel L. Olener
Anna Masten Palmer
Hans Pick
Robert Poff
Bernice Yabek Shiffman
Jacob Shilcrat
Harry Silverstein
Gerald Skolnick
Harry Spiegel
Dr. Fred D. Stone
Gloria Wolff
Irving Zelitt
Israel Zlotnick
Leon Zuckert
Mourner's Kaddish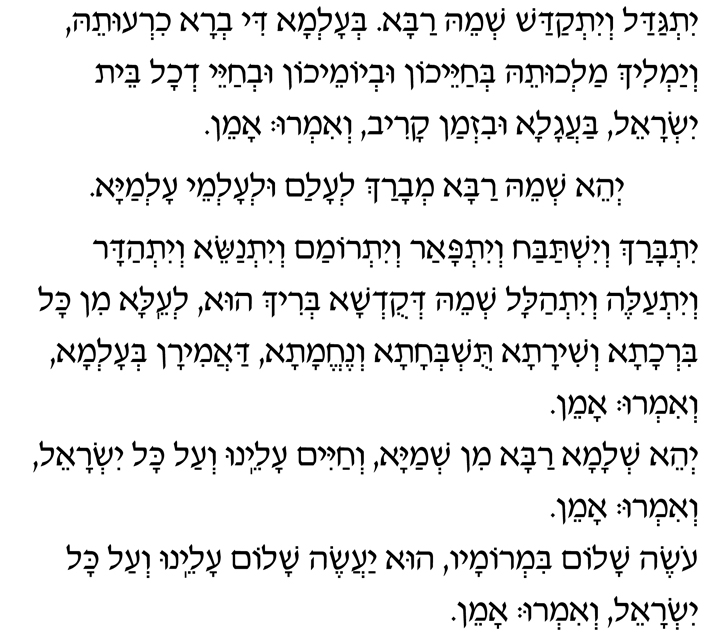 Yitgadal v'yitkadash sh'mei raba.
B'alma di v'ra chirutei,
v'yamlich malchutei,
b'chayeichon uv'yomeichon
uv'chayei d'chol beit Yisrael,
baagala uviz'man kariv. V'im'ru: Amen.
Y'hei sh'mei raba m'varach
l'alam ul'almei almaya.
Yitbarach v'yishtabach
v'yitromam v'yitnasei,
v'yit'hadar v'yitaleh v'yit'halal
sh'mei d'kud'sha b'rich hu,
l'eila min kol birchata v'shirata,
tushb'chata v'nechemata
daamiran b'alma. V'imru: Amen.
Y'hei sh'lama raba min sh'maya,
v'chayim aleinu v'al kol Yisrael.
V'imru: Amen.
Oseh shalom bimromav,
Hu yaaseh shalom aleinu,
v'al kol Yisrael. V'imru: Amen.
Exalted and hallowed be God's great name
in the world which God created, according to plan.
May God's majesty be revealed in the days of our lifetime
and the life of all Israel -- speedily, imminently, to which we say Amen.
Blessed be God's great name to all eternity.
Blessed, praised, honored, exalted, extolled, glorified, adored, and lauded
be the name of the Holy Blessed One, beyond all earthly words and songs of blessing,
praise, and comfort. To which we say Amen.
May there be abundant peace from heaven, and life, for us and all Israel,
to which we say Amen.
May the One who creates harmony on high, bring peace to us and to all Israel.
To which we say Amen.
Source: https://reformjudaism.org/practice/prayers-blessings/mourners-kaddish
Mon, May 29 2023
9 Sivan 5783
Mon, May 29 2023 9 Sivan 5783