Yahrzeits
Yahrzeits for the week beginning the evening of September 23rd – 30th • 28th Elul – 5th Tishrei
Yahrzeits correspond to the Hebrew date. Names will be announced the Shabbat prior to the observance.
Robert Anson
Shirley Appleman
Beatrice Arky
Ben Arnovitz
Rebecca Behrends
Lynn Bernstein
Annie Callot
Pearl Dorothy Clinton
Corinne Coen
Helen Dinwoodey
Lillian M. Finke
Arthur Frank
Marvin Gallenson
Elliot Goldstein
Robert Gordon
Samuel Green
Leonard Grossman
Marilyn Kantrowitz
George LaMere
Joey Levy
Sharon Mann Meranus
Pearl Pullman
Bernard "Barney" Rosenblum
Richard Rubin
Sylvia Segal
Joe Shefner
Cecelia Cohne Siegel
Bobby Silberman
Saul Stark
Fay Sonnenreich Trubow
Raymond Wilson
Richard Zebrowski
Mourner's Kaddish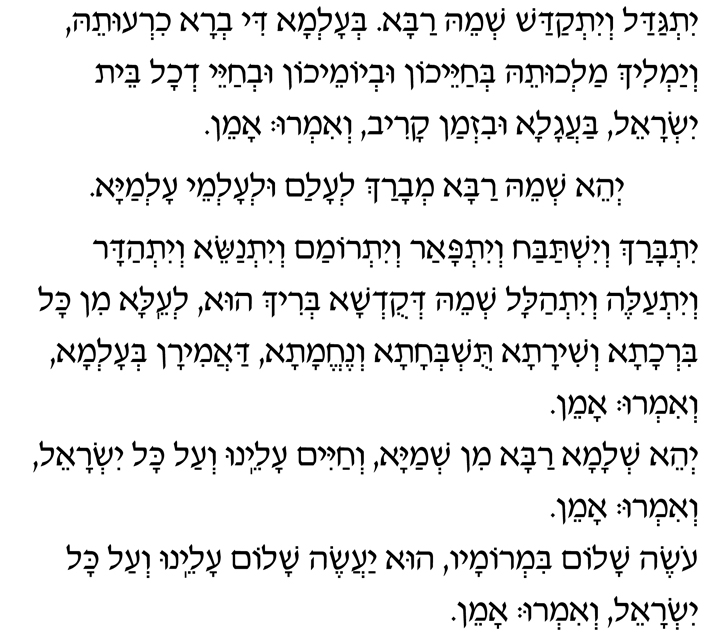 Yitgadal v'yitkadash sh'mei raba.
B'alma di v'ra chirutei,
v'yamlich malchutei,
b'chayeichon uv'yomeichon
uv'chayei d'chol beit Yisrael,
baagala uviz'man kariv. V'im'ru: Amen.
Y'hei sh'mei raba m'varach
l'alam ul'almei almaya.
Yitbarach v'yishtabach
v'yitromam v'yitnasei,
v'yit'hadar v'yitaleh v'yit'halal
sh'mei d'kud'sha b'rich hu,
l'eila min kol birchata v'shirata,
tushb'chata v'nechemata
daamiran b'alma. V'imru: Amen.
Y'hei sh'lama raba min sh'maya,
v'chayim aleinu v'al kol Yisrael.
V'imru: Amen.
Oseh shalom bimromav,
Hu yaaseh shalom aleinu,
v'al kol Yisrael. V'imru: Amen.
Exalted and hallowed be God's great name
in the world which God created, according to plan.
May God's majesty be revealed in the days of our lifetime
and the life of all Israel -- speedily, imminently, to which we say Amen.
Blessed be God's great name to all eternity.
Blessed, praised, honored, exalted, extolled, glorified, adored, and lauded
be the name of the Holy Blessed One, beyond all earthly words and songs of blessing,
praise, and comfort. To which we say Amen.
May there be abundant peace from heaven, and life, for us and all Israel,
to which we say Amen.
May the One who creates harmony on high, bring peace to us and to all Israel.
To which we say Amen.
Source: https://reformjudaism.org/practice/prayers-blessings/mourners-kaddish
Tue, September 27 2022
2 Tishrei 5783
Tue, September 27 2022 2 Tishrei 5783