Yahrzeits
Yahrzeits for the week beginning the evening of June 24th – July 1st • 26th Sivan – 2nd Tammuz
Yahrzeits correspond to the Hebrew date. Names will be announced the Shabbat prior to the observance.
Bailee Aberman
Barbara Adler
Jon Harris Appleman
Rebecca Arkin
Lillian Aronoff
Sophie Baum
Samuel Bernstein
George Bornstein
Annie Brisk
Mildred E. Cline
Laurel Brown Dye
Rose Einhorn
Jacob (Jay) Goldstein
Ann Goldstein
Raylene Guss
Anita Hecker
Abe Jaffe
Constance Kaplan
Benjamin Kogan
Bertha Rosengarten Kurzban
Albert Levy
Meta Zamory Ley
Saul Mariaschin
Frances Melenson
Irving Monsey
Ruth Potsdamer
Dr. Harold Rosenberg
Max Rosenberg
Rose Rosenberg
Rex Stark
Patricia Strahinic
Bernard Tran
Henry Tumen
Lorraine White
Shloshim
Jeffrey Fudin
William J. 'Mike' Shroder
Evgeney Leon Jurovitzki
Mourner's Kaddish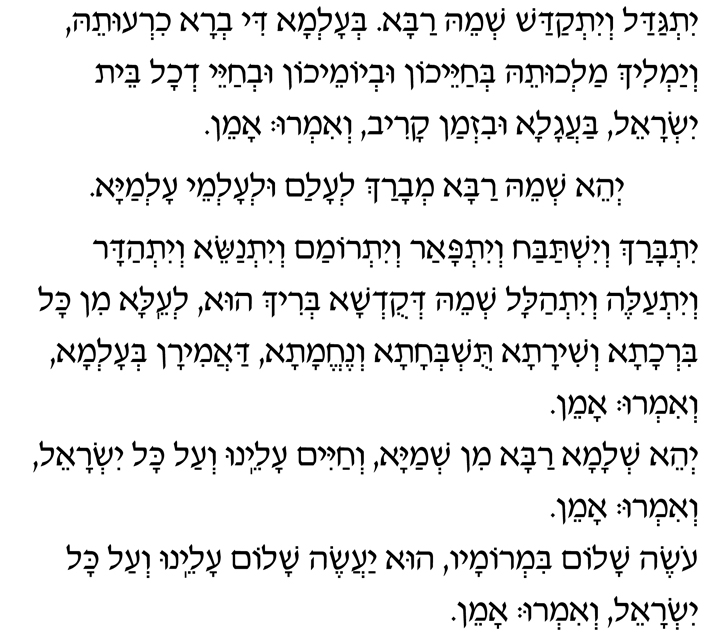 Yitgadal v'yitkadash sh'mei raba.
B'alma di v'ra chirutei,
v'yamlich malchutei,
b'chayeichon uv'yomeichon
uv'chayei d'chol beit Yisrael,
baagala uviz'man kariv. V'im'ru: Amen.
Y'hei sh'mei raba m'varach
l'alam ul'almei almaya.
Yitbarach v'yishtabach
v'yitromam v'yitnasei,
v'yit'hadar v'yitaleh v'yit'halal
sh'mei d'kud'sha b'rich hu,
l'eila min kol birchata v'shirata,
tushb'chata v'nechemata
daamiran b'alma. V'imru: Amen.
Y'hei sh'lama raba min sh'maya,
v'chayim aleinu v'al kol Yisrael.
V'imru: Amen.
Oseh shalom bimromav,
Hu yaaseh shalom aleinu,
v'al kol Yisrael. V'imru: Amen.
Exalted and hallowed be God's great name
in the world which God created, according to plan.
May God's majesty be revealed in the days of our lifetime
and the life of all Israel -- speedily, imminently, to which we say Amen.
Blessed be God's great name to all eternity.
Blessed, praised, honored, exalted, extolled, glorified, adored, and lauded
be the name of the Holy Blessed One, beyond all earthly words and songs of blessing,
praise, and comfort. To which we say Amen.
May there be abundant peace from heaven, and life, for us and all Israel,
to which we say Amen.
May the One who creates harmony on high, bring peace to us and to all Israel.
To which we say Amen.
Source: https://reformjudaism.org/practice/prayers-blessings/mourners-kaddish
Sat, June 25 2022 26 Sivan 5782