Yahrzeits
Yahrzeits for the week beginning the evening of February 10th – 17th • 20th – 26th Shevat
Yahrzeits correspond to the Hebrew date. Names will be announced the Shabbat prior to the observance.
Jay Abramowitz
Frieda Lee Auerbach
Louis Berry
James M. Birdwell
Nathan Brief
Florence Cardon
Jonathon Creger
Bella Katz DeCurtis
Louis Edelman
Rabbi Harvey J. Fields
Harold Findling
Ida Rudnick Gordon
Minnie Harris
Bette Henning
Roy E. Hinz
David Kahn
Sophie Kaplan
Shirley Kaplowitz
Jack Lazarus
Ida Auerbach Lazarus
Max Levitt
Halina Lipka
Coleman Lipman
Annette Lovinger
Charles Drew Marson
Pearl Mednick
Dorothy A. Nelsen
Pauline Newman
Shirley Jean Pinsler
Ronald Plath
Rose Policzer
Howard Safran
Reuben Samuel
Lieber Segal
Naphtoli Shartenberg
Zalman Sher
Alan R. Small
Irving I. Solomon
Evelyn Tran
Frances Bernstein Wimmer
Paul Yanowitz
Shloshim
Shayna Lamson
Jo Duncan Isaacson
Wendy Ray Atwood
Rich Esser

Mourner's Kaddish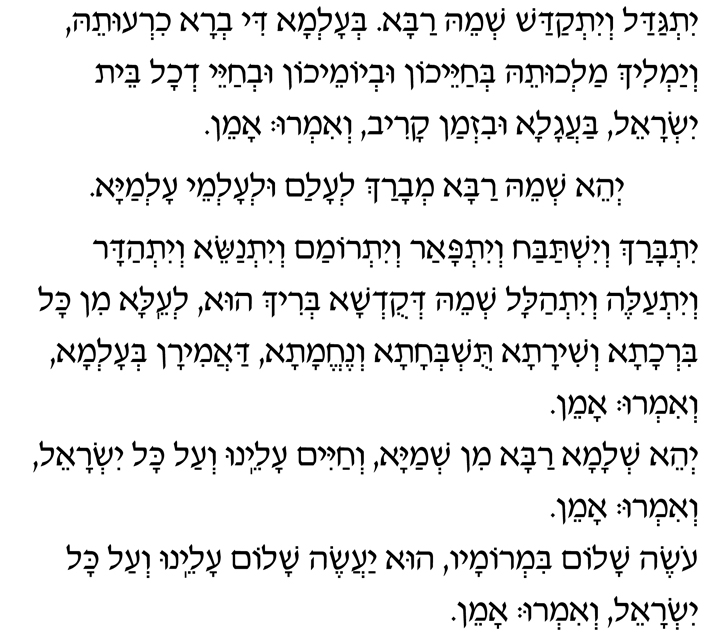 Yitgadal v'yitkadash sh'mei raba.
B'alma di v'ra chirutei,
v'yamlich malchutei,
b'chayeichon uv'yomeichon
uv'chayei d'chol beit Yisrael,
baagala uviz'man kariv. V'im'ru: Amen.
Y'hei sh'mei raba m'varach
l'alam ul'almei almaya.
Yitbarach v'yishtabach
v'yitromam v'yitnasei,
v'yit'hadar v'yitaleh v'yit'halal
sh'mei d'kud'sha b'rich hu,
l'eila min kol birchata v'shirata,
tushb'chata v'nechemata
daamiran b'alma. V'imru: Amen.
Y'hei sh'lama raba min sh'maya,
v'chayim aleinu v'al kol Yisrael.
V'imru: Amen.
Oseh shalom bimromav,
Hu yaaseh shalom aleinu,
v'al kol Yisrael. V'imru: Amen.
Exalted and hallowed be God's great name
in the world which God created, according to plan.
May God's majesty be revealed in the days of our lifetime
and the life of all Israel -- speedily, imminently, to which we say Amen.
Blessed be God's great name to all eternity.
Blessed, praised, honored, exalted, extolled, glorified, adored, and lauded
be the name of the Holy Blessed One, beyond all earthly words and songs of blessing,
praise, and comfort. To which we say Amen.
May there be abundant peace from heaven, and life, for us and all Israel,
to which we say Amen.
May the One who creates harmony on high, bring peace to us and to all Israel.
To which we say Amen.
Source: https://reformjudaism.org/practice/prayers-blessings/mourners-kaddish
Wed, February 8 2023
17 Shevat 5783
Wed, February 8 2023 17 Shevat 5783