Yahrzeits
Yahrzeits for the week beginning the evening of September 22nd – 29th • 8th – 14th Tishrei
Yahrzeits correspond to the Hebrew date. Names will be announced the Shabbat prior to the observance.
Robert Anson
Lynn Bernstein
Kurt Bishop
Ted S. Bloom
Margaret Walden Bloom
Sarah Claschko
Max Cohen
Ceil Cohen
Ben Cohne
Julius Dreyfuss
Joe Jack Eisen
Frances Elstein
Nathan Elster
Thelma "Tiby" Field
Jimmy Givens
Mandel Goodman
Irene D. Levine
Morris Marks
Nila Martinez
Chanah Michnevich
Abraham Rappaport
Manny Rhein
Blanche Rhys
Ella Rosenblum
Sam Schlesinger
Alice Shulman
Bobby Silberman
Gertrude Mendelsohn Silverstein
Herbert Smith
Minnie Sonnenreich
Wayne Spelius
Harry Wax
Loren "Larry" Weiss
Irving Wohl
Mourner's Kaddish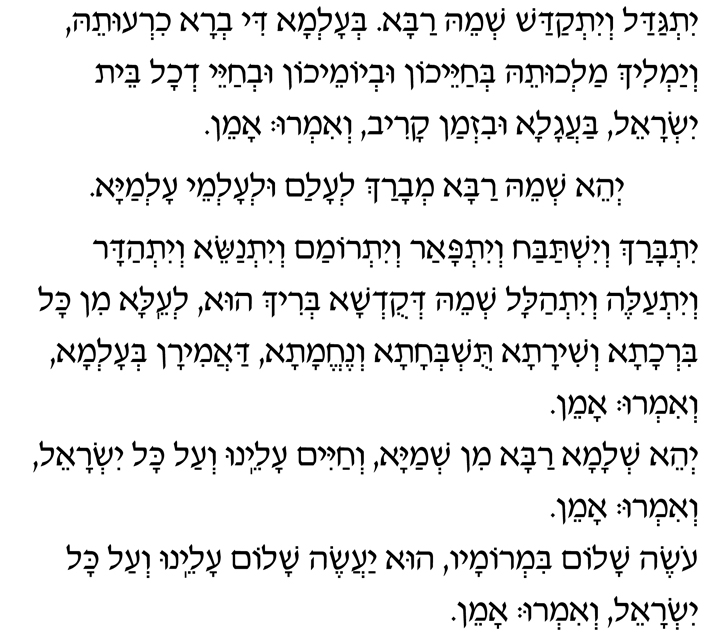 Yitgadal v'yitkadash sh'mei raba.
B'alma di v'ra chirutei,
v'yamlich malchutei,
b'chayeichon uv'yomeichon
uv'chayei d'chol beit Yisrael,
baagala uviz'man kariv. V'im'ru: Amen.
Y'hei sh'mei raba m'varach
l'alam ul'almei almaya.
Yitbarach v'yishtabach
v'yitromam v'yitnasei,
v'yit'hadar v'yitaleh v'yit'halal
sh'mei d'kud'sha b'rich hu,
l'eila min kol birchata v'shirata,
tushb'chata v'nechemata
daamiran b'alma. V'imru: Amen.
Y'hei sh'lama raba min sh'maya,
v'chayim aleinu v'al kol Yisrael.
V'imru: Amen.
Oseh shalom bimromav,
Hu yaaseh shalom aleinu,
v'al kol Yisrael. V'imru: Amen.
Exalted and hallowed be God's great name
in the world which God created, according to plan.
May God's majesty be revealed in the days of our lifetime
and the life of all Israel -- speedily, imminently, to which we say Amen.
Blessed be God's great name to all eternity.
Blessed, praised, honored, exalted, extolled, glorified, adored, and lauded
be the name of the Holy Blessed One, beyond all earthly words and songs of blessing,
praise, and comfort. To which we say Amen.
May there be abundant peace from heaven, and life, for us and all Israel,
to which we say Amen.
May the One who creates harmony on high, bring peace to us and to all Israel.
To which we say Amen.
Source: https://reformjudaism.org/practice/prayers-blessings/mourners-kaddish
Mon, September 25 2023
10 Tishrei 5784
Mon, September 25 2023 10 Tishrei 5784