Yahrzeits
Yahrzeits for the week beginning the evening of January 14th – 21st • 13th – 19th Shevat
Yahrzeits correspond to the Hebrew date. Names will be announced the Shabbat prior to the observance.
A.Z. Axelrad
Lillian Benowitz
Abe Bernstein
Belle Rubin Browarny
Eileen Clark
Benjamin David Cohen
Benjamin Samuel Crass
Juanita Valin Dunie
Herman Finkelstein
Maurice Floch
Ruth Goldberg
Dorothy Greenberg Haendel
Adam Hennion
Louis Howard
Reuben Kaplan
Elaine 'Bunny' Kaufman
Walter Kieda
Lula Klein
Edythe Korn
Florence Levy
Sam Lieberman
Tilda Love
Louis Milan
Dorothy Nathan
Jerome B. Pepper
Esther Porizky
Jennie Aronowitz Rosenzweig
Petr Sorokin
Lee Lovinger, Sr.
Charlotte Turkanis
Diane Welcher
David Zilberman
Shloshim
Sheldon Blattner
Joanne McGillis
Jerry Meents
Dr. Naomi Franklin
Karolyn Kohl Goldenberg
Mourner's Kaddish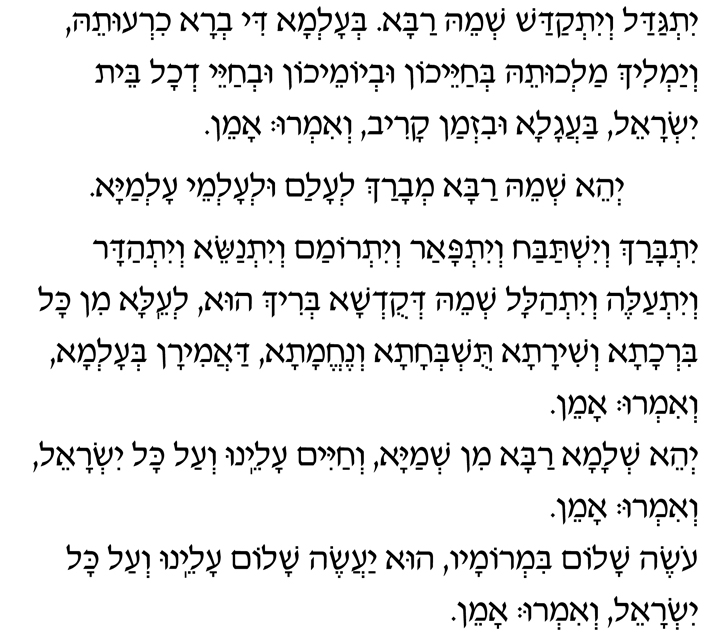 Yitgadal v'yitkadash sh'mei raba.
B'alma di v'ra chirutei,
v'yamlich malchutei,
b'chayeichon uv'yomeichon
uv'chayei d'chol beit Yisrael,
baagala uviz'man kariv. V'im'ru: Amen.
Y'hei sh'mei raba m'varach
l'alam ul'almei almaya.
Yitbarach v'yishtabach
v'yitromam v'yitnasei,
v'yit'hadar v'yitaleh v'yit'halal
sh'mei d'kud'sha b'rich hu,
l'eila min kol birchata v'shirata,
tushb'chata v'nechemata
daamiran b'alma. V'imru: Amen.
Y'hei sh'lama raba min sh'maya,
v'chayim aleinu v'al kol Yisrael.
V'imru: Amen.
Oseh shalom bimromav,
Hu yaaseh shalom aleinu,
v'al kol Yisrael. V'imru: Amen.
Exalted and hallowed be God's great name
in the world which God created, according to plan.
May God's majesty be revealed in the days of our lifetime
and the life of all Israel -- speedily, imminently, to which we say Amen.
Blessed be God's great name to all eternity.
Blessed, praised, honored, exalted, extolled, glorified, adored, and lauded
be the name of the Holy Blessed One, beyond all earthly words and songs of blessing,
praise, and comfort. To which we say Amen.
May there be abundant peace from heaven, and life, for us and all Israel,
to which we say Amen.
May the One who creates harmony on high, bring peace to us and to all Israel.
To which we say Amen.
Source: https://reformjudaism.org/practice/prayers-blessings/mourners-kaddish
Wed, January 19 2022
17 Shevat 5782
Wed, January 19 2022 17 Shevat 5782