This Week's Yahrzeits
The following names of those departed, whose Yahrzeits we observe during the week of this Shabbat, will be read during services on Friday evening and Saturday morning.
Sylvan Alcabes
Schmuel Bentov
Americaus Birdwell
Sidney L. Blattner
Stanley Bushkoff, MD
Ben Cohen
Robert Cohne
Thelma Crass
Mary Davis
Laurel Brown Dye
Harry Elster
Jerome Feiler
Michael Garay
Alexander Gillars
Dorothy Goldstein
Marjorie R. Goodman
Sophie Guss
Emma Leven
Eugene Levetan
Irving Lobell
Norma Delemos Loeb
Harriet Zacharias Miller
Amy Miller
Miriam "Mitzie" Perlman
Moritz Pickard
Charles Schwarz
Stanley G. Seckler
Jacob Shilcrat
Zina Shvartz
Max Siegel
Roman Sorokin
Abraham Sosin
Dr. Fred D. Stone
Isadore Susman
Selma Wilson
Gloria Wolff
Irving Zelitt
Shloshim
Rivka Bat Avraham v'Sarah
Bobbie Walker
Barbara Noymer
Kaddish Prayer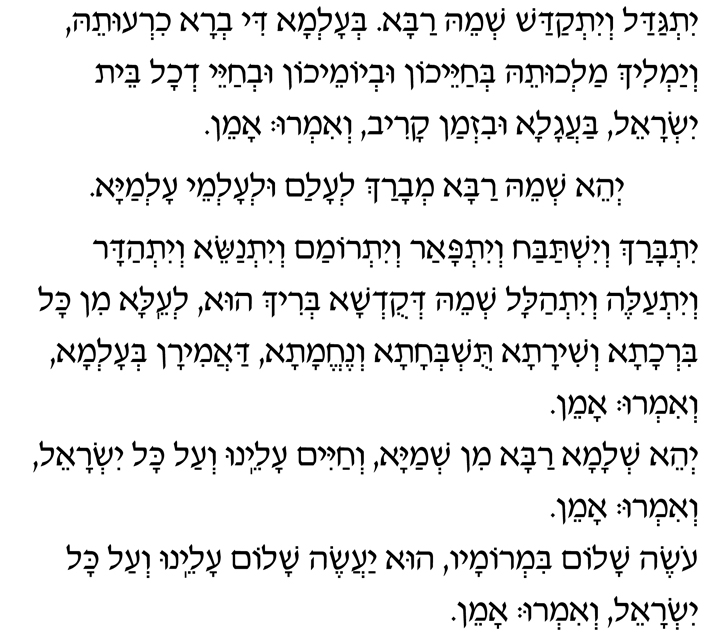 Yitgadal v'yitkadash sh'mei raba.
B'alma di v'ra chirutei,
v'yamlich malchutei,
b'chayeichon uv'yomeichon
uv'chayei d'chol beit Yisrael,
baagala uviz'man kariv. V'im'ru: Amen.
Y'hei sh'mei raba m'varach
l'alam ul'almei almaya.
Yitbarach v'yishtabach
v'yitromam v'yitnasei,
v'yit'hadar v'yitaleh v'yit'halal
sh'mei d'kud'sha b'rich hu,
l'eila min kol birchata v'shirata,
tushb'chata v'nechemata
daamiran b'alma. V'imru: Amen.
Y'hei sh'lama raba min sh'maya,
v'chayim aleinu v'al kol Yisrael.
V'imru: Amen.
Oseh shalom bimromav,
Hu yaaseh shalom aleinu,
v'al kol Yisrael. V'imru: Amen.
Exalted and hallowed be God's great name
in the world which God created, according to plan.
May God's majesty be revealed in the days of our lifetime
and the life of all Israel -- speedily, imminently, to which we say Amen.
Blessed be God's great name to all eternity.
Blessed, praised, honored, exalted, extolled, glorified, adored, and lauded
be the name of the Holy Blessed One, beyond all earthly words and songs of blessing,
praise, and comfort. To which we say Amen.
May there be abundant peace from heaven, and life, for us and all Israel,
to which we say Amen.
May the One who creates harmony on high, bring peace to us and to all Israel.
To which we say Amen.
Source: https://reformjudaism.org/practice/prayers-blessings/mourners-kaddish
Tue, June 18 2019 15 Sivan 5779