Congregation Kol Ami celebrates 50 years, and ongoing relationship with Latter-day Saints
05/07/2023 10:56:11 PM
Emily Ashcraft, KSL.com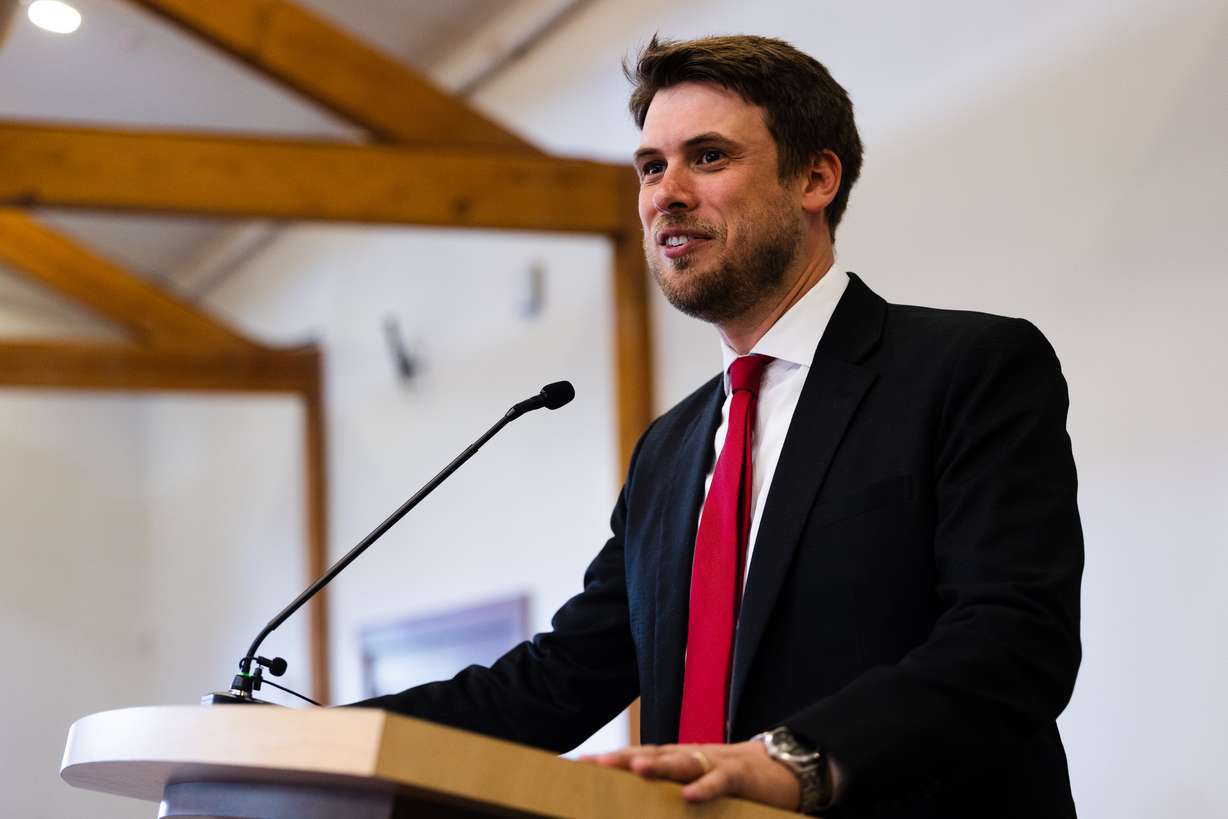 SALT LAKE CITY — The 50th anniversary celebration for Congregation Kol Ami on Sunday was also a celebration of community and connection as Rabbi Samuel Spector thanked government leaders and the leadership of The Church of Jesus Christ of Latter-day Saints for their support of the small Jewish community in Salt Lake City.
Kol Ami is a unique Jewish congregation; it began when two different congregations joined forces — Congregation B'nai Israel, a congregation of reformed Jews, and Congregation Montefiore, which was a group of conservative Jews. The congregation, with about 350 families, is about one-fourth of Utah's Jewish population.
"Fifty years ago, our community decided to do something incredibly bold, something that hadn't been done, really anywhere in the country. And that was bring two different movements of Judaism together, to create one community — Kol Ami — which means all our people," Rabbi Spector said.
He said something like that would only happen in Utah, where people look out for each other and love each other despite differences. Rabbi Spector said friends, family and the community coming together has inspired people around the world.
Rabbi Spector said when he learned he would be moving from a predominately Jewish community in Los Angeles, to Utah, where a very small portion of people are Jewish, he called a rabbi friend to ask what it was like to be a minority group. Initially, the other rabbi said it was hard dealing with antisemitism, but then when he heard Rabbi Spector was going to Utah, the rabbi said, "Oh, Latter-day Saints love you guys."
His experience has confirmed that, Rabbi Spector said, along with the experience of Jewish people since they arrived in Utah 150 years ago. He said members of The Church of Jesus Christ of Latter-day Saints came to Utah to escape persecution, which is similar to the background of many Jews.
Rabbi Spector said it has been "incredibly touching" to see leadership from major political parties reaching out to see how they can help the Jewish community, despite the religion being a very small minority. He said politicians have proven over and over that they will support the Jewish community.
Utah Lt. Gov. Deidre Henderson, Salt Lake County Mayor Jenny Wilson and Salt Lake City Mayor Erin Mendenhall also spoke at the celebration.
Mendenhall said that while the Jewish population makes up fewer than 2% of the state of Utah, it has a far greater positive impact on the community
"We care about our communities. We care not only about what unites us as Utahns but the things that make us different and unique," Henderson said. "We believe that harmony is being different together, and that's what this congregation represents."
The relationship between government and faith communities, she said, is important to the state's history, and she looks forward to the next 50 years of the congregation. Henderson read a proclamation recognizing May 2023 as the 50th anniversary of the Kol Ami congregation.
Mon, May 29 2023
9 Sivan 5783
Mon, May 29 2023 9 Sivan 5783